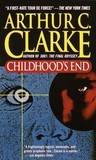 Childhood's End
by
Arthur C. Clarke
My rating:
5 of 5 stars
It is, recently, the book more people have confessed to having loved as a teen or young adult--with the air of someone finally brave enough to admit a gauche early love. Such as sci-fi.
It's deserved. I came to this late--but it's an excellent fable in a George Bernard Shaw kind of way. The Miltonian central trope, while reminiscent of C.S. Lewis at his didactic worst, is so delicately revealed and after that, suppressed, that it's possible to finish the book and only then realize, holy shit! (Redacted spoiler alert.)
I have always liked speculative fiction, speculative anything, except currency speculation. But it's best taken in small doses instead of chain-reading volume after volume of the same old rocket science. Then again, I could be wrong. Chain-reading anything can get you through the end of civilization, which is what Childhood's End chillingly, serenely, evokes.
View all my reviews